30 May

Winning Books Announced!

The Indiana Library Federation announced the winners of the Young Hoosier Book Awards (YHBA) and Eliot Rosewater Award (Rosie) for this school year. These awards are chosen annually by students across Indiana. Students who read any of the nominated books may rate each book they've read. In May, the votes are counted and the winners are announced. Click on the titles below to request these items from the La Porte County Public Library's online catalog.

The Young Hoosier Book Awards winners for 2016/ 2017 are:
Picture Book: Dog vs. Cat by Chris Gall. A dog and a cat, both newly adopted and forced to share a room, do not get along until a howling, smelly, terrifying newcomer unites them in a common cause.
Intermediate Book: Sisters by Raina Telgemeier. In a semi-autobiographical graphic novel, Raina's disappointing bond with a cranky, independent younger sister is further challenged by the arrival of a baby brother and an estrangement in their parents' marriage.
Middle Grades Book: The Selection by Kiera Cass. Sixteen-year-old America Singer is living in the caste-divided nation of Illea, which formed after the war that destroyed the United States. America is chosen to compete in the Selection–a contest to see which girl can win the heart of Illea's prince–but all she really wants is a chance for a future with her secret love, Aspen, who is a caste below her.
The 2016-17 Eliot Rosewater Indiana High School Book Award winner is: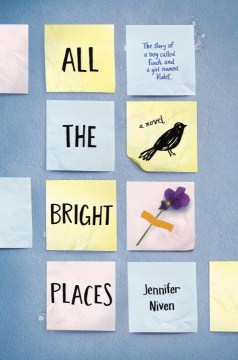 All the Bright Places by Jennifer Niven. Told in alternating voices, when Theodore Finch and Violet Markey meet on the ledge of the bell tower at school–both teetering on the edge–it's the beginning of an unlikely relationship, a journey to discover the "natural wonders" of the state of Indiana, and two teens' desperate desire to heal and save one another.
Remember, students entering Kindergarten through 8th grade can sign up for the Summer Reading Program and start recording minutes read now! Book descriptions were used from NoveList K-8 Plus and NoveList Plus – great resources you can use to find your next read.