29 Feb

Silly Read Alouds
"You're never too old, too wacky, too wild, to pick up a book and read with a child." -Dr. Seuss
Wednesday, March 2, 2016 is Read Across America Day, a celebration of reading that honors the birthday of Theodor Seuss Geisel, known to most of us as Dr. Seuss. Celebrate by sharing a silly read aloud with a child. Here are some of my favorites with links to La Porte County Public Library's online catalog:
Mother Bruce by Ryan T. Higgins tells the tale of Bruce, a grumpy epicure who becomes the reluctant adoptive parent to four goslings. Laugh along with the hilarious illustrations as Bruce attempts to makes the best of the situation.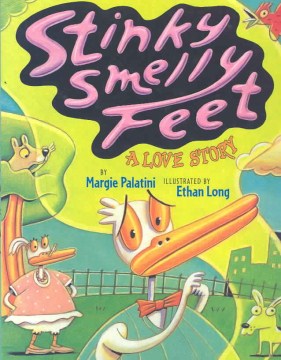 In Stinky Smelly Feet: A Love Story by Margie Palatini, Douglas and Delores have a barrier in their relationship – foot odor. In my favorite line from the story, police officers instruct Douglas to "COME OUT WITH YOUR SHOES ON!"
In This is a Moose by Richard T. Morris, Director Billy Waddler attempts to film a documentary of a moose in his natural habitat. Moose and his uncooperative friends try the director's patience, and ultimately, an entirely different film is created.
In Secret Pizza Party by Adam Rubin and Daniel Salmieri, a wiley raccoon disguises himself to get access to his favorite food. He outwits his enemies (broom-launching robots and the pizza delivery guy) and gains admittance to a masquerade pizza party.
Request one of these picture books to read, laugh, and celebrate Dr. Seuss's birthday!