14 Jan

MLK Day 2018

"Life's most persistent and urgent question is: What are you doing for others?" – Dr. Martin Luther King, Jr.

Dr. Martin Luther King, Jr. Day is January 15, 2018. Get involved by participating in MLK Day Legacy of Service through volunteer opportunities and free lesson plans for teachers.  La Porte County Public Library has books and materials for all ages to learn more about Dr. King's life and work.
Check out the Black History Curriculum Kit for a complete classroom set of materials about black history and the civil rights movement. Educators and parents may borrow curriculum kits for a six week loan period so that students can use the materials as part of a unit of study. Each kit contains up to 30 books, audio, and videos based on popular study topics. Kits are geared for either primary, intermediate, or secondary grades.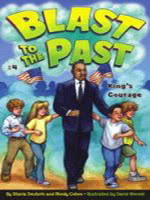 If you can't make it in to the Library, encourage kids to read the tumblebook Blast to the Past: King's Courage to learn about Dr. King's powerful civil rights activism and how he has inspired generations of people to keep striving for racial equality in America. Tumblebooks are free eBooks that can be accessed 24/7 with an Internet connection and your library card number.
Read The Autobiography of Martin Luther King, Jr. to hear about Dr. King's life in his own words. Using Stanford University's voluminous collection of archival material, King scholar Clayborne Carson constructed a remarkable first-person account of Dr. King's extraordinary life.
The Coretta Scott King Books Awards were designed to commemorate the life and works of Dr. Martin Luther King, Jr. and to honor Mrs. Coretta Scott King for her courage and determination to continue the work for peace. This annual award recognizes outstanding books for young adults and children by African American authors and illustrators that reflect the African American experience. 2017's CSK Illustrator Award went to Jean-Michel Basquiat for Radiant Child: The Story of a Young Artist.
2017's CSK Author Award went to John Lewis and Andrew Ayden for March: Book Three. Looking for more information on past winners? Teachingbooks.net offers more than 3,000 resources to support the Coretta Scott King Book Awards.