20 Dec

Meet-the-Author Book Reading: Jason Chin on Amazing Discoveries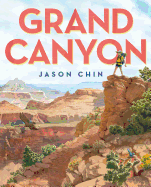 Whenever Jason Chin creates a book, he always visits the place first as part of his research. "It's really important for me to go on location," he says, noting that doing so helps him discover things he wouldn't through other research methods. This certainly was the case with his Orbis Pictus award-winning title,
Grand Canyon
.
In this Meet-the-Author Book Reading, learn how finding a fossil at the Grand Canyon helped to shape Jason Chin's newest book. Listen to Jason Chin share the story behind Grand Canyon.
Browse all TeachingBooks.net Meet-the-Author Book Readings. TeachingBooks.net is for anyone who reads, teaches, or enjoys books for children and teens. This service is primarily used in the K–12, university, and public library setting. TeachingBooks.net is provided through INSPIRE, a service of the Indiana State Library.