28 Aug

Meet-the-Author Book Reading: Envisioning Fantasy Worlds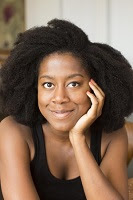 TeachingBooks author readings are a great way to share the stories behind authors and books we love. Just this week, TeachingBooks shared the author's story behind her writing of Children of Blood and Bone. Not only only is this title available in print, we also have eAudio and Ebook available.
Captivated by images of West African gods and goddesses, known as the Orishas, Tomi Adeyemi found herself imagining an entire world. Her epic fantasy, Children of Blood and Bone , which Tomi describes as "Black Panther with magic," tells the story of this world. Listen to Tomi share the inspiration behind Children of Blood and Bone.
Browse all TeachingBooks.net Meet-the-Author Book Readings for more reading inspiration. Access to TeachingBooks is provided by Indiana State Library's INSPIRE.